Reclaiming our Lives, Reclaiming our Earth
April 03 – April 8, 2018
Held at The Menla Retreat Center in beautiful Phoenicia, NY
In our upcoming workshop we will follow Prince Lindworm, the Norwegian story of the queen who has "forgotten" that twenty years ago she gave birth not to one son but to twins. One was a human boy, whom she lovingly brought up, and one was a snake, who slithered away upon birth.   When both children come of age, the snake returns to haunt her kingdom, with surprising results.
All of us have something hidden, in our persons or in our past, something that we have pushed out of consciousness, wittingly or not.   If we are lucky enough, these memories/qualities will surface before we breathe our last breath, either through dream images or bodily symptoms, giving us a chance to look them in the eye and integrate them, fostering wholeness.
Join us at Menla Retreat Center in Phoenicia NY (http://menla.us/programs/), April 3 through 8, where we will work with dreams, movement, voice, and visual expression to help us retrieve and consolidate the pieces of ourselves we have left behind.
In these turbulent times, we will work to embrace our shadows with tenderness and compassion. We will employ dreams, body, visual expression, and voice to deepen our experience and heal our wounds.
A BodySoul Community Workshop for Women
Inspired by the Marion Woodman Foundation, to continue the tradition of BodySoul Rhythms® work, as developed by Marion Woodman, Mary Hamilton and Ann Skinner through trained teams, the BodySoul Rhythms® work has a strong base in CG Jung and supports the individual's process of working towards consciousness, and the contained group process of descending into the unconscious and the body. The BodySoul Rhythms® work holds that psyche and soma are inseparable, and must be worked on together to come to consciousness—to the positive feminine in our bodies and the positive masculine in our creative pursuits.
https://mwoodmanfoundation.org/
FOLLOW THIS LINK FOR REGISTRATION: http://www.reclaimingourlives.com/registration.html
Moving into Joy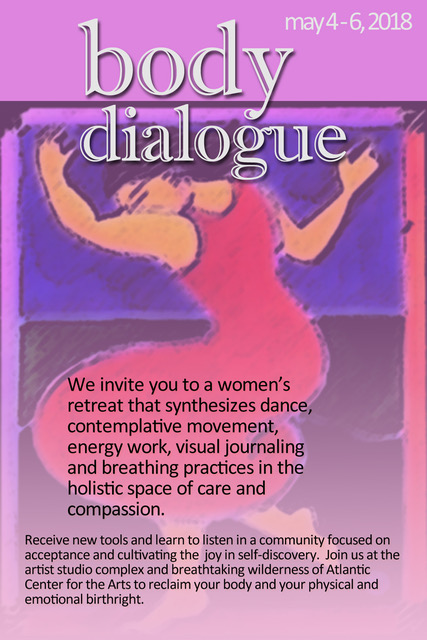 Listen to this interview below to hear more about this upcoming retreat….