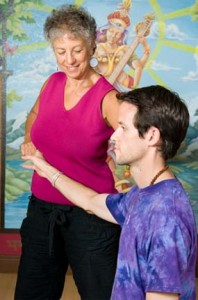 A private session is an opportunity to discover our restrictions and tension patterns. We use our mind's eye in partnership with me to investigate what the story is that we are containing in our body. If a person shows up with a pain in her shoulder, we address the physical pain, but even as I am working physically on that person, we are asking questions directly to the joint uncovering what is hidden in the memory of our tissue. Often an image will come forth, or a color, and that will guide us more directly to what kind of healing is needed for that part of the body. I like to complete sessions with something active that a person can use either in meditation or movement so that they are the main healer. For some people, what needs to be addressed is muscle weakness or a structural problem, but even  in the most concrete situation, there is almost always some deeper level of understanding that we can discover.
How often do I need private sessions?
Although one session can be an excellent diagnostic tool, ideally a student benefits most when they do ten sessions over the course of two months.
Testimonials
"Thank you Janice for giving me the tools to combat pain. I feel amazing today!" – Kelly Weeks, guitarist
"…She has an incredibly deep understanding of the human body, which she communicates clearly, so that I now have a deeper understanding of my own body and how to best use it. Her teaching has stayed with me over the years and I rely on it daily." – Nina Bruder, Director, Bikkurim: An Incubator for New Jewish Ideas
"She uses her hands like a divining rod." – Amy Albert, Editor
"Not only was the time that Janice spent working with me very helpful, but more important were the multiple simple skills that she taught me in just a few sessions that I now use every day to keep my body feeling good." – Ben Unger, Ph.D.; Director Early Products Marketing; Fortune 50, Pharmaceutical Company
"Her energy, enthusiasm, creativity, and profound knowledge of body dynamics make her an excellent co-leader…providing a counterpoint to my psychoanalytic skills." – Polly H. Howells
"…Janice communicates her ideas with a precision that elicits respect and a passion that is contagious and draws in even the biggest skeptics. She is a gem." – Peter Bregman, Bregman Partners, Inc.
"My body can now do for itself what it used to require the help of a chiropractor to do." – Tom Reising, PHD