Reclaiming our Lives, Reclaiming our Earth
Pandemic As Practice
Friday night, April 23 – Sunday afternoon, April 25
with a preliminary evening Thursday, April 15, 7-9 pm
and post evening Thursday, April 29, 7-9 pm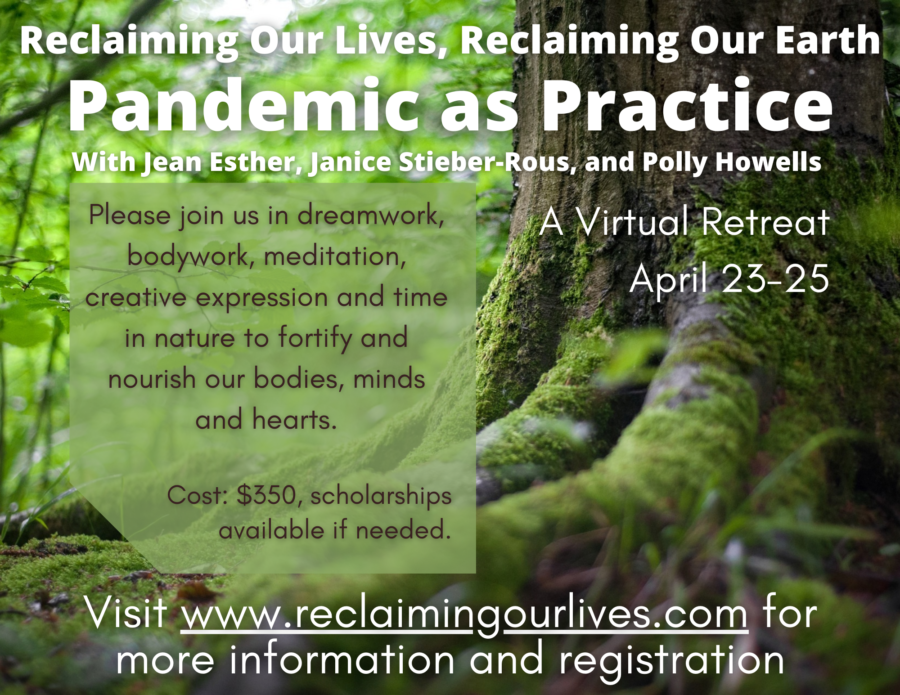 This virtual weekend gathering we will draw on our longstanding practices from Reclaiming our Lives Reclaiming our Earth, to fortify and nourish our bodies, minds, and hearts.  
We are requesting that you hold the weekend of April 23-25 as a full retreat, as best you can. At a later date, we will send you a schedule as to when we will be on and off zoom as a group.
Dedicating yourself to a full weekend retreat will allow you to drop into your deeper process.
Please see registration information and registration link at www.reclaimingourlives.com/registration.html.
Facilitators: Polly Howells, Jean Esther, and Janice Stieber Rous.
A BodySoul Community Workshop for Women
Inspired by the Marion Woodman Foundation, to continue the tradition of BodySoul Rhythms® work, as developed by Marion Woodman, Mary Hamilton and Ann Skinner through trained teams, the BodySoul Rhythms® work has a strong base in CG Jung and supports the individual's process of working towards consciousness, and the contained group process of descending into the unconscious and the body. The BodySoul Rhythms® work holds that psyche and soma are inseparable, and must be worked on together to come to consciousness—to the positive feminine in our bodies and the positive masculine in our creative pursuits.