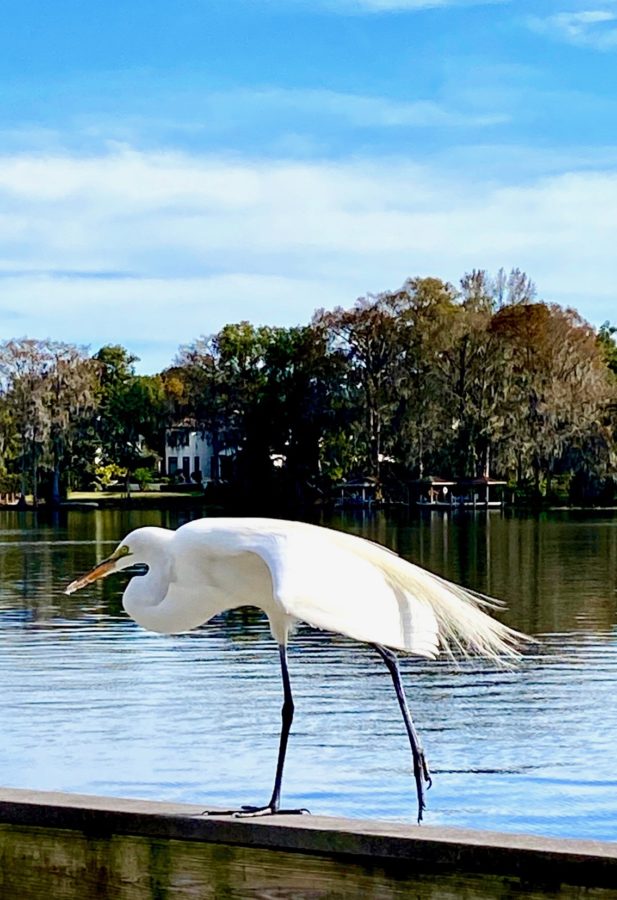 Today I was mesmerized by a white egret in a dance of one-legged preening and cleaning on my dock.
He regally alighted three feet from me and then set out to show me his ritual that probably is part of his daily life self-care.
I marveled and sat up tall, as I am now two weeks out of my hip reconstruction and have a new self-care ritual.
Not the one I had most of my life, a new one.
It is a new normal.
It is a chance to integrate a new body part into my beloved best friend that I have taken good care of all my life.
So once again I say YES to life. I say YES to choosing to have a total hip replacement.
Some of you have written to me in response to my blogs, feeling worried, and concerned for me.
But actually I feel like celebrating!
I was scared, but I overcame the fear, by taking a risk to create a healthier future. I said NO to fear and yes to risk and challenge. 
So here I sit typing my observations of my new normal.
I am slower, more awake and aware, and feeling immune to the rush of the outer world. I am happy to be home to reconnect with friends and to have time with my precious daughter and my partner.
All in all, I am here to report my dance is continuing and I am better than ever.
It is a new dance with a new dance partner — my body — but she is still my best friend. We are simply learning a new rhythm and some new steps.
Is my leg stiff? Yes.
Do I need to build strength? Yes.
Do I feel encouraged and enlivened by the fact that I listen well and rest when I need to?
Yes.
So, all in all, I am not in fear.
I am mostly in GRATITUDE. I am in awe that after two weeks my body is accepting this new way of being and we are co-creating a new series of moves.
I am not worried that this might take a while since I have the rest of my life to get better and better.
Thanks to all who are writing. It brings joy to my heart to connect and feel our relationships. If you do not write that's fine too, BUT if you want to be in dialogue, just say hi.
Blessings to you in all your steps.
With appreciation,
Janice